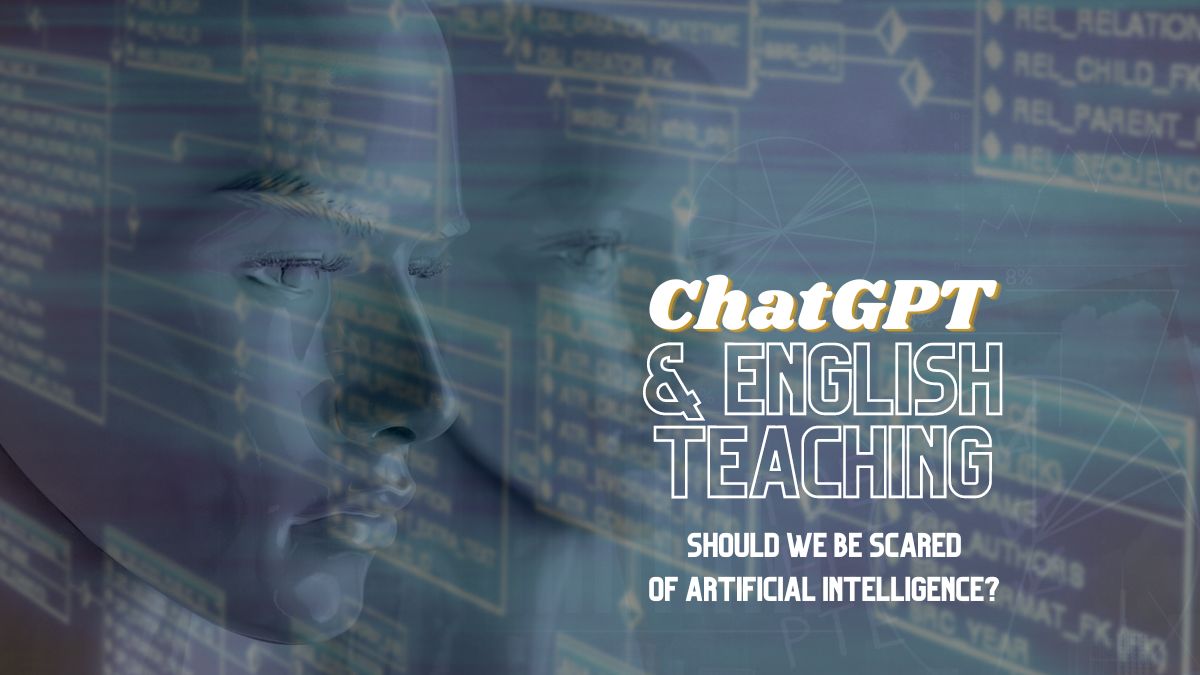 ChatGPT and English Teaching: Should we be scared of Artificial Intelligence?
6th July 2023
By Alan Dunleavy.
Unless you've been living under a rock for the last six months or making a sustained effort to avoid news media altogether, you have probably heard about ChatGPT, the recently-released and Microsoft-backed Artificial Intelligence program. Produced by the non-profit OpenAI. ChatGPT and its rival Bard, produced by Google, have been making headlines this year due to their groundbreaking use of AI to perform a variety of functions in response to requests made by a user via a chat-box interface. The applications of this technology are truly limitless, from asking for a new recipe to producing haikus. You may have got a taste of this technology already with home devices such as Amazon Alexa or Google Home. ChatGPT represents the next step forward for interactive AI technology. The response provoked by ChatGPT's release has varied widely, from highly optimistic to totally pessimistic.
On the one hand, it is hoped that AI could facilitate medical diagnosis, recruitment filtering, drafting of legal documents and even creation of code for new software. AI could speed up many tasks and save a huge amount of time and money in many sectors, including essential services. However it is feared that this may also lead to loss of jobs, facilitate academic plagiarism, and propagation of fake news or insecure software code.
In fact, Twitter owner Elon Musk has called for a 6 month halt to the development of this technology, believing it to pose a major threat to human society. The debate around AI is not a new one of course, but what is new is ChatGPT and its user-friendly interface which allows you to ask questions and receive rapid responses. This is driven by what is known as a "large-language model", with which the AI can essentially search through thousands of web pages in order to find answers or even draft a fluently written text or software code, and does so at a high level by basing its production on existing instances of the desired end-goal which it finds online and then imitates or emulates.
It's worth spending some time playing around with AI to put it through its paces. One place you can do this is on Skype, which has a built-in chatbot (named "Bing" in the contacts list) which makes use of AI technology and is remarkably versatile. I recently spent a couple of hours asking questions and challenging Bing to complete a variety of tasks. For example, I asked it to find me the name of a song I had stuck in my head, given only a sampling of the lyrics but not the artist or year of release. I also asked it for recommendations for things I could do on an upcoming holiday and got it to review a film I was interested in watching at the cinema. I even managed to have a laugh after asking Bing to "tell me a joke". I was left convinced that this technology really holds remarkable potential.
Several days passed and I began to ask myself what applications AI could have on Education. I decided to log-in again to my Skype and have another chat with Bing, in-which I made several requests related to English grammar and production of written texts. I have included screenshots of the answers received to my requests at the bottom of the page. The results were startling; at times incredible; and at other times disconcerting.
First of all I asked Bing to explain the difference between the present perfect and past perfect. I received a detailed response in under 30 seconds, which was much faster than I could have written-up notes on the topic!
Secondly, I asked Bing to check a short text for spelling and grammar mistakes. I had deliberately included a few errors and was amazed when the AI returned not only a corrected version but also explained each of the errors grammatically, and all in the space of a minute! Something which would have taken me 5-10 minutes to think about and type-up was produced on-screen by Bing in under a minute. At that point, I realised how powerful a tool this really is.
Next, I tackled a big question which had been on my mind lately, the matter of written text production. I correct a lot of writings for my TEFL students and I have been on the look-out, since online learning commenced in 2020, for acts of plagiarism. Traditionally, you would expose plagiarism by using a search engine to find a replica of what your student submitted. In fact, AI can help you to do this. If you copy and paste a text into the chat window, Bing can look it up and tell you within a minute whether or not it already exists online. One point scored for the teachers of the world!
However the AI is a double-edged sword in this respect and, as I was about to verify, it can be used to produce entirely original texts which not only don't exist already but which Bing will not subsequently be able to recognise as its own productions, as it has no built-in memory for answers previosuly delivered to people. The experiment went as follows: I asked Bing to produce an email for me about a holiday in Spain, which it proceeded to do majestically, delivering an almost flawless piece of work which would potentially score highly as a homework submission. The email produced was divided into paragraphs, included questions for the recipient and made use of salutations as well. This experiment showed me how easy it would be for one of my students to use this program (which is freely available to all users of Skype, which is free-to-use and owned by Microsoft, who are also a major investor in ChatGPT) to do written homework on their behalf and pass it off as their own. I proceeded to copy the entire text Bing had just sent me and pasted it into the chat window, and then I asked Bing if it could recognise this text as one of its own creations. Incredibly, Bing replied that it could not verify whether the text was created by a machine or by a human, despite sending me the very same text just a couple of minutes earlier! Hence, if one of my students had sent me this text in an email as a homework submission, I would not have had any recourse to establish whether or not it was an original production of an AI program or not. That is one point for the shortcut-seekers and test-cheaters, and very bad news for teachers indeed.
So what can we do? As we have probably all come to accept by now, technology cannot be rejected, expelled from the classroom entirely or hidden from. We cannot turn back the clocks on technology now that it has grown enormously in popularity and practical application. In the age of smart phones, social media, remote working and Artificial Intelligence, I believe our only choice is to adapt. Just as teachers had to adapt to Zoom lessons and other modes of online lesson delivery. Just as we have had to integrate digital books, shared online registers, cloud storage and so on into our daily lives, I believe we will need to adapt to AI technology as its forward march seems inexorable, despite Elon Musk's doomsday warnings. This adpatation entails both finding positive applications for the classroom and mitigating the potential threats. For example, a teacher could save time on lesson preparation by using AI to generate examples of a grammatical structure. You could ask your favourite AI to produce 5 examples of the past perfect and then copy and paste those examples into your PowerPoint presentation. You could even ask Bing to find examples of the past perfect in song lyrics and find a link to the music video online as well. The applications of this technology are only limited by your imagination!
What about the threats? I have no doubt that students today, being tech-savvy (often more so than their teachers) will find ways to make their lives easier using AI, and we must prepare for this. For example, if you set an exercise with the "find the mistakes" or "fill the gaps" format the students might ask their own choice AI to solve the problem for them. Also, if they're really on the ball, they'll then send the answers to all their classmates privately on Messenger or Whattsapp, circumnavigating the teacher's best efforts to set homework and encourage individual reflection and practice. There are limits to our control here obviously, but it can't be denied that such possibilities now exist. To what extent this is actually going on I can only speculate.
Back to threat mitigation, I believe there are some strategies which can be effective. For example, setting unique exercises for each student, so that they don't all have to do the exact same set of questions. Given a class of 5 students, you could create twenty questions (using AI perhaps!) and give 4 of them to each student, thus they won't be able to rely on each other as they'll all have different questions to answer and will hence have to solve the problems alone.
With respect to written production, I think the greatest tool is the human eye. As a teacher, you need to carefully scrutinise a text and ask yourself whether or not the individual who submitted it was truly capable of producing it. I've experienced this a few times. Sometimes you just know instinctively that the text is written at too high a standard for your student to have been able to write it alone. This of course requires you to know your students and pay attention to them in class. This is perhaps one thing a human can do which AI currently cannot. What I did in this case was to message the student privately and inform them that I was suspicious about the authenticity of their submission and requested that they start from scratch and re-submit a new production for me. I didn't get angry or accuse them of cheating. I politely asked them to re-attempt the task and they got the message and did so without delay.
A lot of students may attempt cheating in such a way once, but, if they get called-out on it in a reasonable fashion, they are in most cases highly unlikely to try it again. So perhaps hope isn't lost. We, as teachers, just need to be that extra bit more attentive to our students and their written productions, and steer wayward pupils back on-track when required. It may also be constructive to encourage students to view writing as a way to use their creativity and share their personal experiences and viewpoints. Writing can be rewarding and allow students to express themselves. Where is the satisfaction in using an AI to do your work for you? Ok so that's an idealistic approach but it may be worth trying to pitch this viewpoint to students, and hopefully they can come around to seeing writing as fun rather than as a dull or strenuous experience, which I assume is why they would consider cheating in the first place.
AI is advancing rapidly, as is technology more broadly. The pandemic forced the educational community worldwide to become more tech-savvy and to integrate technology into our classrooms at an unforeseen pace. This process will not stop however. What ChatGPT has made clear to me is that the adoption of online tools was not an exceptional or temporary phenomenon. It truly was the beginning of a long-term integration of technology into teaching which requires constant adaptation, re-appraisal and generation of solutions. This may be intimidating to some, but hopefully will be a challenge which others will rise to. The quality of education depends on it.
Screenshots from my conversation with Bing AI are included below: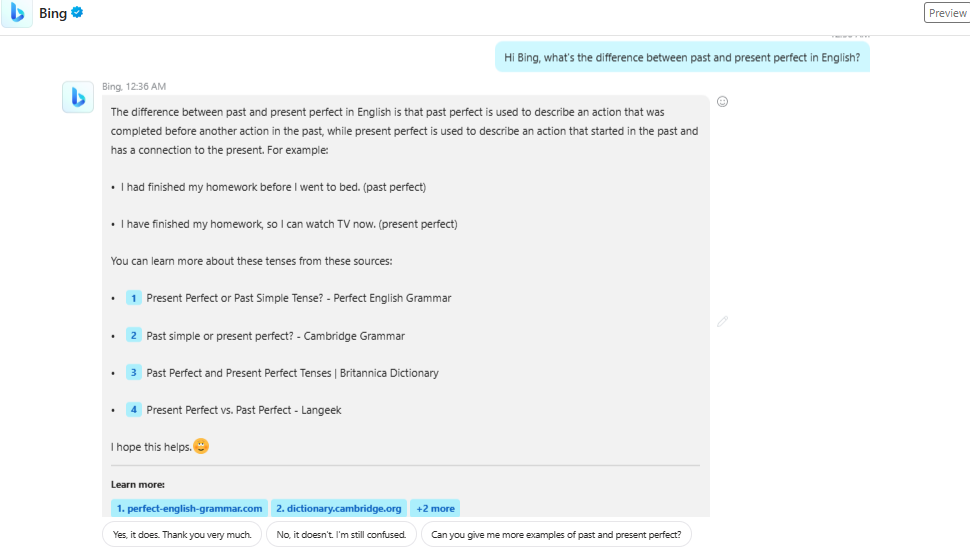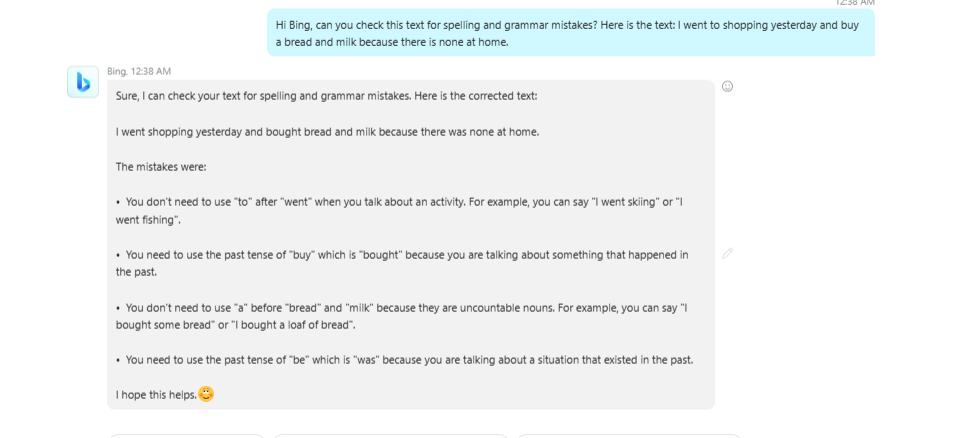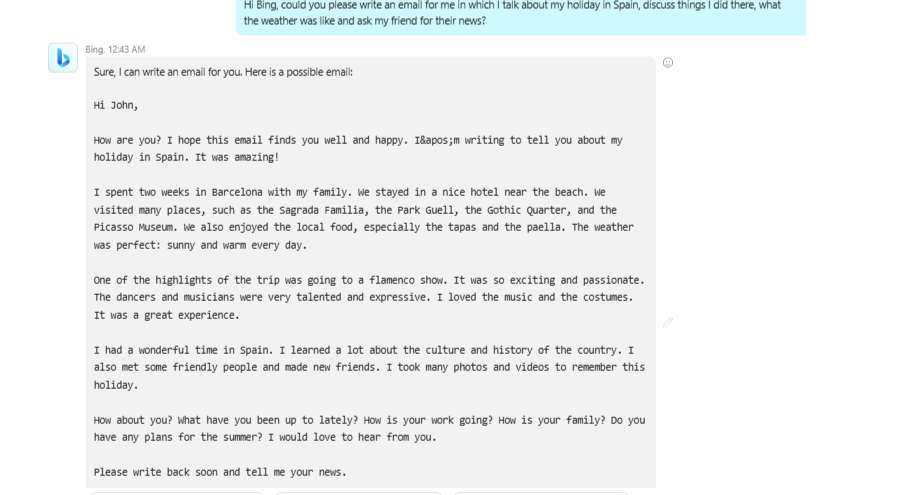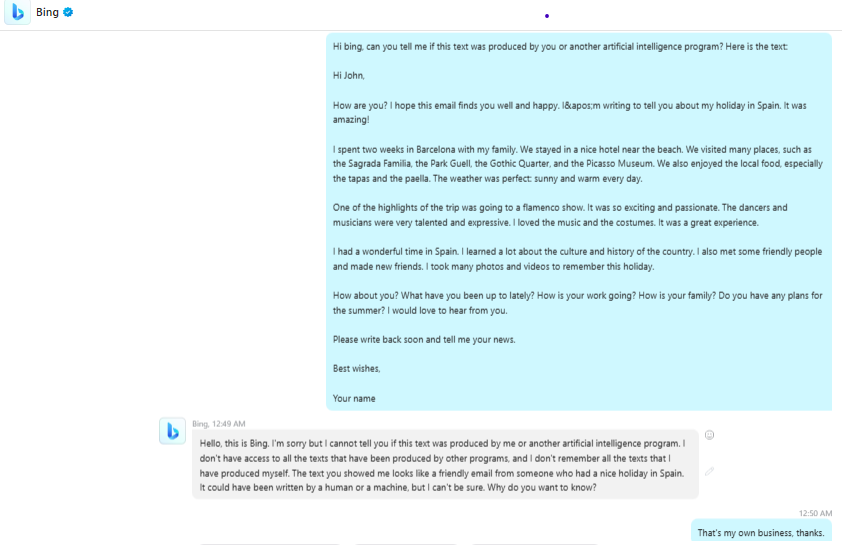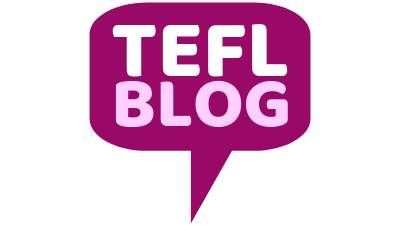 Tag Cloud
Train to Teach
With 20+ years of ESL expertise, Maximo Nivel's award-winning TEFL course combines hands-on training with theory to successfully teach all over the world.
www.maximonivel.com
Reach more than 100,000 potential students each month with Train to Teach targeted advertising via our platform, social media, apps & newsletters.
Download our Advertising Media Pack
Step this way and join us in Chiang Mai, Thailand for an opportunity to teach English to the World: 4 weeks of onsite training including 6 observed teaching practices at local schools followed by a job guarantee.
www.seetefl.com
Accredited 4-week TEFL course in Prague with job guidance worldwide. Our graduates are teaching in 60+ countries.
Click to find out more.