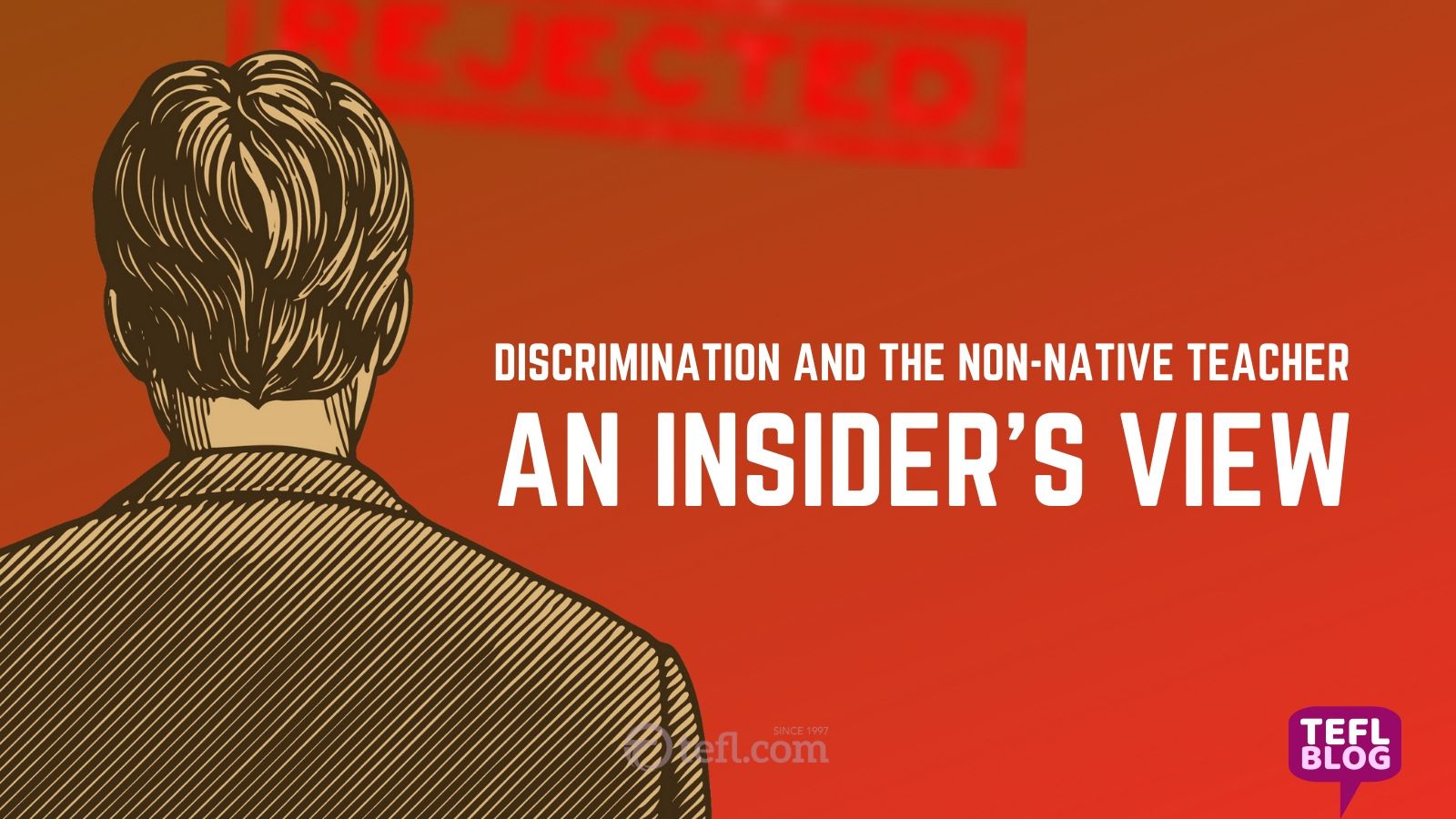 Discrimination and the Non-Native Teacher - An Insider's View
26th November 2019
By Lara Treasy
Everybody has heard of or even experienced some form of discrimination in their life be it racial, gender, age, sexual orientation, or any other type of discrimination. The world has been fighting discrimination for centuries, but despite the struggle for equal rights in our day and age, we still come across instances of discrimination.
In the TEFL industry, one possible reason for discrimination is the native language and the nationality of a teacher. If you were lucky enough to have been born in an English-speaking country, it seems all doors are wide open to you as an English teacher. You can get any job you like anywhere in the world and sometimes even without the necessary qualifications. The situation is changing in this respect but just a decade ago it was not uncommon to see native speakers without any teaching qualifications being hired over qualified non-native speakers.
Is this discrimination justified? As a non-native speaker of English, I can offer an insider's view on the problem and share my experiences in the TEFL industry.
Justifications for Discrimination
First, it is important to note to that in many jurisdictions discrimination is against the law. That said, one of the most obvious disadvantages of a non-native speaker compared to a native one is their accent. Most non-native teachers with time and effort develop a "neutral" accent, or, depending on their exposure to English due to their preferences or the country in which they spend a lot of time, they might develop a specific accent - British, American, Australian, etc.
Since the best accepted approach to teaching English is communicative, the priority is to teach pronunciation that does not hinder communication, and not a specific accent. I am sure opinions are divided here but I hold the view that, as long as your pronunciation is correct, the accent is not that big a deal. However as a professional you would want to work on improving all aspects of your expertise, including the accent.
Vocabulary is another area in which non-native teachers might have a disadvantage compared to native speakers. Nobody, even in their native language, can be expected to know all the words and expressions, but still being a non-native speaker means you might not be aware of some cultural references, connotations and idioms. It also means you have to spend extra time and care preparing for your lessons, checking and double-checking all the vocabulary and grammar to make sure you are familiar with them and you are able to explain them to your students. Again, this is something on which a good professional non-native teacher can work and reach near-native levels.
Another possible justification for discrimination against non-native speakers is the legal requirements for a work visa. I do not know if it is 100% true, but I have been refused a work visa in China on the basis of not being eligible for it as a non-native speaker, and I have also seen some job ads specifying that only native speakers can apply for a job due to legal requirements.
The arguments against Discriminating
Because non-native teachers study the English language formally as a foreign language (many of the non-native teachers of English have a university degree in languages and linguistics) their understanding of how the language works, its grammar and structure may exceed that of a native speaker, making it easier for them to explain things to students. It also means they can understand why students are struggling with a particular concept that does not exist in their native language (e.g. articles, the verb "to be", various tenses, etc.) and they are better equipped, from first-hand experience, to explain these to the students.
Since non-native teachers do not belong to only one specific English-speaking country, they might be more likely to point out to their students the differences between British and American English, for example, rather than just teach one variety of English.
Job options
Do non-native teachers have the same options when it comes to looking for a job? I will tell you my story and you can be the judge of that.
When I started my career as an English teacher almost two decades ago a lot of job ads read: "only native speakers from the following countries: US, Canada, Australia, UK, Ireland", nowadays this requirement has mostly changed to "*EU nationals preferred" (which can vary depending on the region).
I am Russian and I studied English at school and University, qualifying with an Honours Degree in Philology and Teaching English. After graduating I started working as an English teacher to university students, but I wanted to develop professionally, travel and see the world so I did a CELTA course.
On completing the course I applied to about 20 different schools in different countries. I only got one response. After successfully passing the interview I set off to Hungary for my first job abroad. All my colleagues there were native speakers (from England, Ireland, America and Australia), but I was treated equally both by the school administration and by the students. It was a success.
After Hungary I decided to travel to China and there the problems began. My first mistake was that I trusted my future employer, who suggested that I should travel on a tourist visa and that they would arrange a work visa upon arrival. However, when they started the work visa application process, it turned out that I could not get a work visa as a non-native teacher, so I had to leave the country after my tourist visa expired.
Another unpleasant aspect of being a non-native teacher in China was that I was asked by the school administration not to tell students where I was from! I did not feel comfortable with that and if my students asked I always told them I was from Russia.
The next experience I had as a non-native teacher of English was a positive one. When I went to work in Oman, it was obvious that all the teachers were treated equally irrespective of their country of origin, and their merit and salary were determined by their qualifications and experience. I was very proud to be getting a slightly higher salary than my native speaking partner, based on my qualifications and experience.
The roller-coaster of my teaching career continued with alternating ups and downs. It was time for the next downturn. When I moved to Ireland, I found that my options as a teacher of English were quite limited.
My first job (and the easiest way to get a teaching job in Ireland) was in a summer school, where I met other non-native teachers like me and we were treated equally to our native-speaking colleagues both by the school administration and the students. It was overall a pleasant experience, but when this two-month gig was over I had to look for a more permanent or long-term position and they were not easy to find.
Firstly I had to move to Dublin - like in every other country most job opportunities are in the capital cities.
There were plenty of language schools catering for students from Brazil, Venezuela, Spain, Italy, and other countries, but not all of them were good schools, some of them were just trying to make money, and did not provide timely pay to the teachers (both native and non-native). This all came to a head a few years ago and a number of schools in Dublin closed down overnight and the owners disappeared with both the students' and teachers' money.
There were, of course, reliable schools like International House, for example, but as a non-native speaker I was only able to get subbing jobs in them and in one of the schools after a successful interview the Director of Studies honestly told me that he could not offer me a full-time position because students who pay to study English in an English-speaking country expect to be taught by native speakers, so local teachers have the advantage. No hard feelings, I kind of understand, but it still hurt.
I taught in a number of small schools, I had part-time jobs, I did some subbing, and every summer I worked in summer schools. As a Russian speaker I was also able to get some short-term jobs teaching Russian, but I never enjoyed the stability and good working conditions of long-term employment, so I can't say that teaching English in an English-speaking country as a non-native teacher was very easy, but it was possible.
Now I live in Portugal and work from home teaching English to Chinese students online. The times have changed, and even though occasionally there is a student who sounds disappointed that I am not British or American, everybody understands the importance of learning English and everybody can appreciate a good teacher, native or non-native.
Conclusion
You can decide for yourself whether to consider some of the things that happened to me as instances of discrimination or just bad luck, but I can honestly say that even though there were times when I was very upset and frustrated with being unfairly treated I still think it only made me stronger. It made me work twice as hard and it made me want to prove that I am a good teacher who deserves to be treated fairly.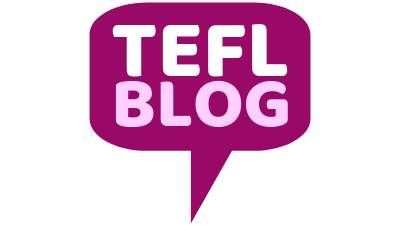 Tag Cloud
Train to Teach
With 20+ years of ESL expertise, Maximo Nivel's award-winning TEFL course combines hands-on training with theory to successfully teach all over the world.
www.maximonivel.com
Step this way and join us in Chiang Mai, Thailand for an opportunity to teach English to the World: 4 weeks of onsite training including 6 observed teaching practices at local schools followed by a job guarantee.
www.seetefl.com
Become a confident English teacher in just 4 weeks. Limited seats available.
Book now!
Reach more than 100,000 potential students each month with Train to Teach targeted advertising via our platform, social media, apps & newsletters.
Download our Advertising Media Pack
Accredited 4-week TEFL course in Prague with job guidance worldwide. Our graduates are teaching in 60+ countries.
Click to find out more.