Poised for expansion. A well-established and highly-regarded English language school for sale in stunning Puglia.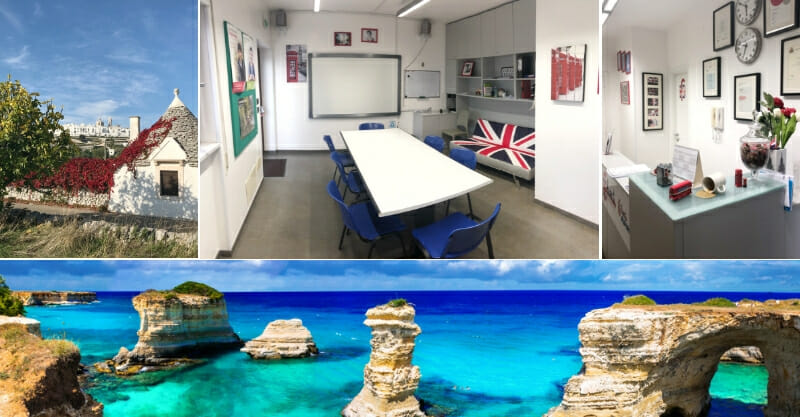 A great opportunity to purchase and develop a well-established and highly-regarded language school in one of the most beautiful towns in the stunning Val D'Itria, Puglia, a region reknowned for its laid-back lifestyle, excellent food and wine and warm, community-spirited people.
The school is currently in its 11th year of operations and through a personal approach to student needs and a dedication to quality, it has developed a loyal following over a broadening catchment area with around 150 students studying on the premises. The school teaches to all age groups, from nursery, young learners, teens and adults. Materials and curricula are in place for all regular courses. As an accredited Cambridge Exams Preparation Centre, many students are developing their language skills to enhance their study, training and career options with internationally-recognised Cambridge English certification.
The school operates in rented premises and has a small reception, 6 classrooms (capacity 7-13 students), one of which is a custom-built facility for very young learners and nursery age children. All classrooms are equipped with furniture, smartboards, wifi and multi-media facilities. A resources library occupies part of a large basement space, with storage and office space available. There is also a kitchen, 3 WC's and an attractive and well-maintained back garden.
Outside the main premises, partnerships have been forged with numerous state schools and other training organisations in the region and courses are run off-site, accounting for an additional 400 to 800 external students, generating approximately one-third of the school's income. Growth has largely been attributed to word-of-mouth and recommendations from partners and students and the school is now poised to take advantage of its business position and significantly expand operations to meet the rapidly growing demand for language services in the region.
Opportunities exist to further develop the business through the adoption of more pro-active marketing strategies across all sectors. Lucrative, government-funded language programmes for state schools and businesses are in abundance, and the overall demand for language training continues to outstrip supply in a region that increasingly acknowledges the need for English as a vehicle to realise its full potential. Competition from other language training providers is minimal and a cooperative approach is adopted by most language schools working together to meet the needs of the market.
Annual revenue this academic year is in excess of 130k.
Teachers are mostly recruited from UK and Ireland and the school maintains rented accommodation within 5 minutes walk from the school.
The school would suit an existing language training organisation wishing to expand its operations, a teaching couple or entrepreneur with a background in training.
Asking price for sale of the school is Euros 250k.
Selling due to family relocation.
Eye For Business
Businesses For Sale
ELT Franchises
ELT Agents Wanted