Teacher Training Directory - Spain

Active Language
Cádiz
Andalusia
Spain

Tel: +34956221426
Email: Click to email

Course: Trinity TESOL courses in Cádiz
Location: Cádiz, Spain
Final Qualification: Trinity Certificate in TESOL

Description:
- Intensive 5 week Trinity TESOL courses
- Part time 9 month Trinity TESOL Courses
- Young Learners Extension Course also available
- Developing Teachers Course also available
- Diploma in TESOL also available
- All courses accredited by Trinity College London
- All courses involve Face-to-face Teaching Practice
- Supportive and highly qualified tutors
- Courses run in Cádiz, Andalusia
- Apply online on our website below
Visit us at:
Active Language

Cambridge School
Plaça Porxada 39
Granollers
Barcelona
Spain
08401

Tel: +34938702001
Email: Click to email

Course: 5-week intensive CELTA course
Location: Granollers (Barcelona)
Final Qualification: CELTA certification

Description:
The CELTA (Certificate in English Language Teaching for Adults) is an internationally recognized qualification for people who want to teach English as a Foreign Language (TEFL). Moderated by the University of Cambridge, the CELTA is the qualification that is most well known among and preferred by employers.

Our CELTA courses are highly intensive and hugely practical as well as being both rewarding and fun. Some centres offer 4-week courses. We choose to make the Cambridge School CELTA a 5-week course because from experience we know that trainees benefit enormously from the additional week to assimilate the course content. It might seem tempting to do the course as intensively as possible, but the extra time can help trainees get better grades, thereby helping their job prospects.

Cambridge School is one of the leading teacher training centres in Catalonia to run this prestigious course. Cambridge School was founded in 1984 and is the largest of the Cambridge School Group which comprises 10 centres in the area which currently employs over 100 teachers and is responsible for the language training of over 3000 students both in house and in association with local schools and leading businesses in the area.

Not only are our courses moderated by the University Of Cambridge to ensure the standard of the courses is always excellent but our team of permanent on-site teacher trainers have over 100 years of combined hands on experience of teaching and training.
Visit us at:
Cambridge School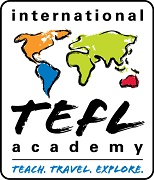 International TEFL Academy
Contact: Get TEFL Certified to Teach English in Spain
916 W. DIversey Pkwy
Chicago
IL
United States
60614

Tel: +1-773-634-9900
Email: Click to email

Course: Accredited 4-Week TEFL Classes in Spain (Barcelona & Madrid)
Location: Barcelona & Madrid
Final Qualification: Accredited 4-Week TEFL Classes in Spain (Barcelona & Madrid)

Description:
Want to get paid to live abroad in Spain?

ITA offers TEFL classes in Spain (Barcelona & Madrid), Online, and in 25 locations worldwide. If you're passionate about learning Spanish, we also offer a student visa program that allows Americans to work legally in Spain while attending Spanish and cultural classes for the year.

Program Highlights:
*Earn a lifetime, accredited TEFL certification that will qualify you for professional English teaching jobs in 80+ countries!
*Work together with your ITA Advisor one-on-one to create your plan for teaching English abroad in Spain. All of the ITA staff have lived abroad & been in your shoes. We're ready to help you!
*With ITA's lifetime job search guidance you'll have the knowledge & resources to find professional teaching jobs in the most popular cities in Spain like Madrid, Barcelona, Seville, and Valencia.
*Learn from our university-level instructors in our Online & In-Person TEFL classes. Every ITA TEFL class requires live practice teaching to get the confidence you need to run a classroom abroad.
*Join ITA's exclusive community of world travelers & teachers in Spain & around the globe! With more than 20,000+ alumni worldwide, you can connect with fellow ITA grads, share travel tips, and help each other get settled abroad.
Visit us at:
International TEFL Academy
Train To Teach
Special pricing available for virtual CELTA sessions June and July 2020. See our website for full dates and costs details.
Click to find out more.
Start your TEFL program with confidence. Study online at your own pace. Preparation classes for TEFL, TESL or TESOL. Complete our 10 hour preparation course. Choose one or more areas below to focus on. Study in any order.
Click to find out more.
Start a new career as an English teacher and teach anywhere in the world. Book your interview now!
Click to find out more.
Get the most out of your CELTA on our part-time 12 week course. Equips teachers for both face-to-face and online teaching. Gain a teaching qualification recognised world-wide.
Click to find out more.
Face to face (Vietnam/ Cambodia) self-paced and virtual classes (anywhere in the world). Includes practical placement and job assistance. Option to take practical in Vietnam/Cambodia with self-paced or virtual option.
Click to find out more.