Pyrenees House is a dynamic new language immersion experience opening in Ariege, South West of France from August 2018. We are looking for agents worldwide to secure bookings for us. You will receive 20% commission on each course that is booked.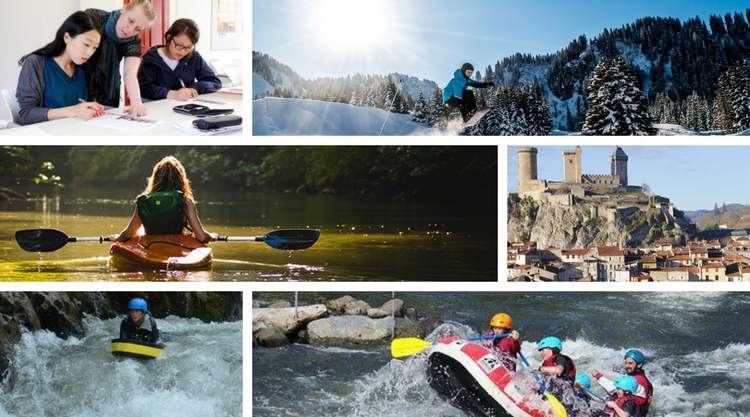 Who are we?
We are Owen and Heather Ross and we are Pyrenees House. We welcome you to learn English in our modern, eco-friendly home, in the beautiful Ariege region of South West France. All courses are inclusive of accommodation in a double room with a private bathroom, meals and seasonal activities.
Heather has a Masters of Education in Teaching English to Speakers of Other Languages from Edinburgh University and is an examiner and English language teacher. She has taught in France, China, Japan and Oman for the past 15 years. Her expertise is in English for Academic Purposes and IELTS preparation courses with a focus on Speaking and Academic Writing.
Owen is a qualified Primary School teacher who has been teaching English language in the Middle East for the last five years. He is also a personal fitness instructor with a MSC in Sport and Exercise Science from the University of Staffordshire. He will be organising the afternoon activity sessions and will use his combined teaching skills and love of outdoor activities to ensure that you not only have fun, but enhance your vocabulary and conversation skills.
Our combined expertise in both English language teaching and Sport and Exercise Science are guaranteed to make your time at Pyrenees House a life-changing experience. On our doorstep, you'll be able to sample all that the Ariege region has to offer. In the afternoons, you can choose from a wide variety of activities including, kayaking, rafting, mountain biking descents, climbing, canyoning, cycling, trekking and a range of winter sports.
Where are we?
Pyrenees House is in the unique, stunningly beautiful, historically rich and warm-hearted region of Ariege in the South West of France. The landscape is spectacularly diverse, containing soaring mountain peaks, deep valleys, dramatic gorges and prehistoric caves.
Access
Toulouse and Carcasonne Airports are within an hour of Pyrenees House. You can also travel by train from Barcelona to Pyrenees House through the Pyrenees. A local train stop is 5kms from us.
Contact us
For all the course details, please check our website www.pyrenees-house.com . To become an agent for us, please contact Heather Ross on pyreneeshousefrance@gmail.com or via our Enquiry Form below.