Agents worldwide wanted for independent, friendly, family owned English language school in the heart of historic Canterbury, UK. Commission is from 20-25% on tuition.
St Peter's School of English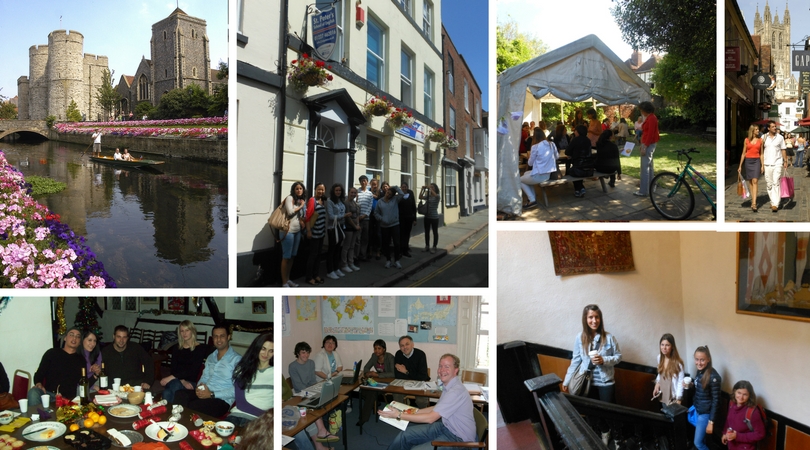 St. Peter's School of English is an independent, friendly, family run English language school in the heart of historic Canterbury (pop 40,000). We are 54 years old and have a uniquely supportive atmosphere with long serving, trusted and experienced staff. We have been recognised by the British Council since 1972 and are a long-time member of English UK.
We are on the lookout for new agents or individuals who want to send students to a welcoming, experienced school. We believe we have much to offer:
The school is situated inside an attractive period building that was once a Medieval bakery. It has an 18 th

century walled garden for exclusive student use with views of the stunning main Cathedral. Our building is only two few minutes' walk from the magnificent city centre with its shops, cafes and historic, tourist sites. In the evening students can go to the theatre or cinema or relax in one of the many restaurants and pubs as well or attend social evenings at the school itself.
There are seven to eight classrooms with use of video and audio equipment. There is also an internet centre, a broadband/wi fi computer room, a games room and a beautiful timber-beamed seating/recreational area with a small café.
Canterbury is an ancient city that was important in Roman and Medieval times. It is one the safest cities in the UK and almost everything is in walking distance. It is also very near London which can be visited during the day plus many other local castles and tourist cities.
On arrival the students will be tested on grammar, writing and speaking. Students are then placed in classes according to level. The levels in the school are Beginner A1, Elementary A2, Pre-intermediate A2/B1, Intermediate B1, Upper Intermediate B2, Advanced C1-C2. There will be a

range of abilities

in the class as students have different strengths and weaknesses in English.
Morning lessons
at all levels focus on

grammar ,

vocabulary ,

accuracy ,

fluency

and

pronunciation . To ensure students have a balanced timetable they will also focus on

reading ,

listening ,

speaking

and

writing .
The teachers will use

course books and other materials

to help them to learn.
Most the practice of grammar and vocabulary in the classroom is done in pairs and small groups so they can become more confident when speaking English.
Afternoon classes
focus mostly on fluency, practising what has been covered in the morning.
They will also work on communicative activities involving lots of speaking and listening. We aim to maximise their speaking opportunities so there will be plenty of pair and small group work with correction work to help them improve.
Students will be given a
questionnaire
to fill in after at the end of the first week and a leaving questionnaire at the end of their course. We will also make sure they have a
tutorial
, even if only staying for one week. During tutorials, the teacher can advise on areas they need to catch up on, if applicable.
St Peters School of English