Earn up to 20% Commission with London School of Languages' Teacher Training and English Courses.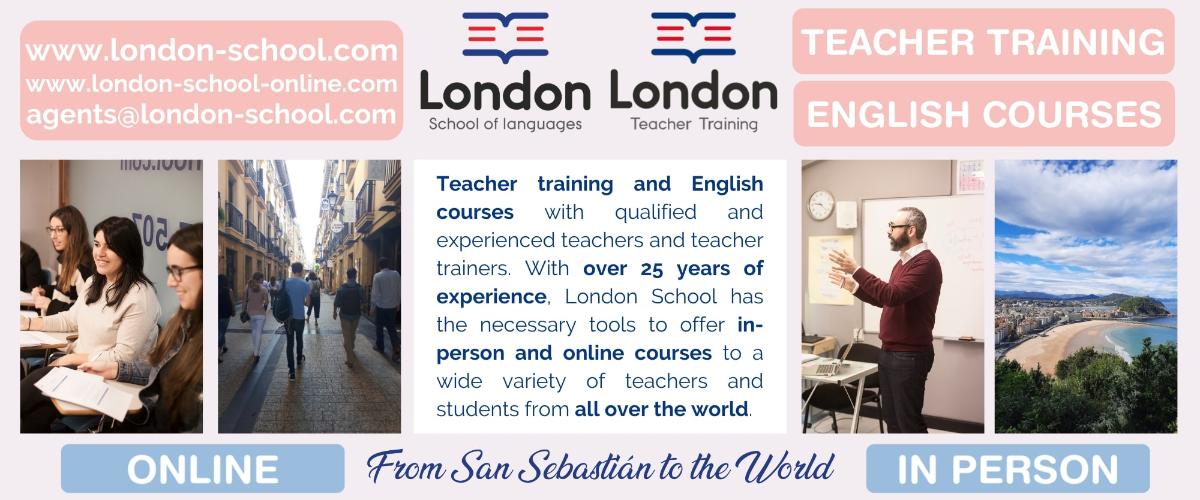 London School of Languages is growing and as such we are offering you the chance to become part of something special. We are seeking agents to promote our courses for students and teachers, including the internationally recognised Cambridge Assessment English CELTA. In fact, we are the only Cambridge authorised training centre in the Basque Country, Spain.
Our story at London School of Languages has been 25 years in the making, beginning in a village living room and successfully expanding to 4 regional centres with over 1000 registered students as well as an ever-expanding teacher training department. This phenomenal growth stems from the commitment and dedication of everyone involved in London School of Languages, all who feel strongly about the value of language education, and it is with this in mind that we want to offer enterprising agents the opportunity to share in London School of Languages' further growth in becoming one of Spain's leading language academies and teacher training centres.
As an established teacher training and CELTA centre, London School Teacher Training caters for the increasing demand for teachers worldwide by delivering both full-time and part-time courses to fit in with trainees' needs. Additionally, London School Teacher Training offers teachers, both new and experienced, a variety of other courses to aid their ongoing professional development. These include our extremely successful online Young Learners course, English for the Classroom and Made to Measure courses in which we create bespoke courses in line with the clients' needs. Needless to say, all are delivered by our qualified and highly experienced teacher trainers who take immense pride in their work.
Furthermore, we also offer numerous courses for students wishing to learn English such as Exam Preparation (Prepare B2 and C1), Level Up and Conversation, all of which are available to take in person or online. Those considering coming to study in San Sebastián, can look forward to its world-famous gastronomy, beautiful beaches and rich cultural heritage – it often takes little convincing!
In short, what London School of Languages is offering is a unique opportunity to become part of a thriving business and earn commission (up to 20%) for all courses sold. If you are interested, require further information or have any questions, please do not hesitate to contact us at agents@london-school.com or via the enquiry form below. We would be delighted to help with any enquiries and an information pack can be sent on request.
Website- www.london-school.com
Online Platform- www.london-school-online.com
Instagram London School of Languages- https://www.instagram.com/academia.london/
Facebook London School of Languages- https://www.facebook.com/LondonSchool.LS
Instagram London School Teacher Training- https://www.instagram.com/londonschooltt/
Instagram London School Teacher Training- https://www.facebook.com/TTlondonschool
LinkedIn- https://www.linkedin.com/company/london-school/