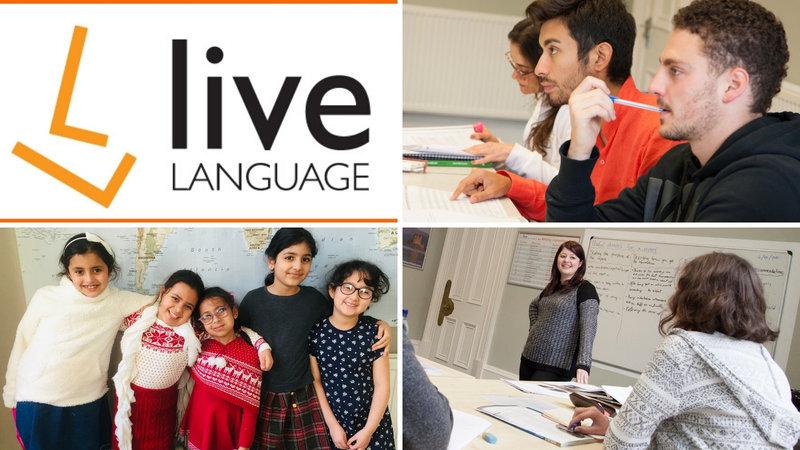 Live Language are currently inviting passionate and experienced individuals and organisations to become part of a growing network of Live Language schools in the UK and worldwide.
Live Language is a British Council Centre of Excellence and Investor in People Gold status organisation and was invited to join the prestigious Quality English group in 2011.
Since its creation in 2001, Live Language has been passionate about the huge social, economic and cognitive benefits of learning another language and culture, whether that be to enter university, to get a promotion, or simply to be more independent on holiday. At our heart is to "To enrich people's lives by providing quality education in a supportive and friendly way".
Live Language specialises in teaching languages, promoting cultural understanding and providing language services to students from all over the world. Our services include-
English Language Teaching
Foreign Language Teaching
Corporate Language Tuition
Student Services
Online Courses
You can build your own internationally recognised, well-respected and highly accredited language school with training, support and guidance at each step from our experienced team.
Benefit from the trusted, established brand of a larger, supportive organisation which has been trading successfully since 2002.
You can start your school with a few classrooms and teachers and grow steadily, or you can embed the Live Language franchise into an already existing school or college.
Our business model can fit into your own personal circumstances – you can teach in your own school or manage a team of teachers.
You will have access to the strong business partnerships which Live Language have developed and nurtured over many years.
An expandable business, with the ability to start off small and grow steadily.
No need to create a website, design a logo or a brochure – full marketing support included in the package.
Discounts and deals which come from greater purchasing power.
Less trial and error with textbooks and teaching materials, software and services, products and processes – we have a wealth of experience for you to tap in to.
Policies, handbooks, practices and systems which have been finessed over many years through our commitment to continuous improvement at your fingertips.
According to the British Franchising Association 90% of franchisees trade profitably. Franchises have a much greater success compared to independent start-ups where 66% fail within the first 2 years.
A tried and tested bank of activities and lesson plans which your teachers can use to ensure professionalism and success in every lesson.
You can build a business that should you wish to sell will be worth a multiple of its own profits (subject to conditions).
We provide you with a toolkit and solid Operations Manual, which covers everything from your legal requirements, to how to check a student's language level, to how to collect End of Course feedback from students.
Creating a sustainable, professional working environment which you enjoy and feel proud of, making a tangible difference to the lives of your staff and students.
Contact adell@live-language.com, view our brochure now at www.live-language.com/franchise or submit an enquiry via the form below for more information.
Eye For Business
Businesses For Sale
ELT Franchises