566

Job(s) Found


Deadline: Mon 30 Jun 2014 00:00:00 GMT
United Kingdom , Kent, Buckingham, Derby, York & Bournemouth
Regent Young Learners
Vacancies for Teachers, Activity Leaders and Management staff in residential summer schools in Buckingham, Derby, Kent and York for students aged 7-17, and in home-stay course in Bournemouth for students aged 13-17.
Regent Young Learners are seeking highly motivated, friendly and supportive staff to work on summer language programmes, ensuring that our international students learn English in a memorable, dynamic and structured environment.

View Details

China , Nanjing
Nanjing English First training school
THE LARGEST LANGUAGE TRAINING PROVIDER IN THE WORLD
View Details

Deadline: Wed 30 Sep 2015 00:00:00 GMT
China , Shenzhen / Shanghai / Beijing / Jiangsu / Zhejiang
Lucheng Chiye Training School of Wenzhou
Highly-paid jobs together with fascinating workplaces throughout China are open now for brilliant teachers.Positions for both lovely young learners or adults are available at the moment. And the teacher is expected to get a package from 130,000RMB up to the 180,000RMB (18,000 Pounds yearly) overall but it may depends because of the location you choose. You are welcome to our fabulous teams all around china.
View Details

Deadline: Fri 12 Jun 2015 00:00:00 GMT
United Kingdom , Stratford-upon-Avon
Oxford House College
Oxford House College is currently recruiting summer residential EFL teachers from 27 June until 22 August for its junior programme in Stratford-upon-Avon. Position is 6 days a week with around 21 hours teaching plus activity supervision. Experience working with teenagers and current country Police Check (if non UK based) desirable.
Please apply directly by sending your CV and cover letter to Richard Adams.

View Details

Deadline: Fri 12 Jun 2015 00:00:00 GMT
United Kingdom , Various locations around the UK
Oxford International Education Group
Oxford International run British Council accredited residential courses for young learners (aged 12-17).
We are currently recruiting EFL Teachers for our Summer courses.
For details on how to apply, please visit our website (link below).

View Details
Deadline: Fri 26 Jun 2015 00:00:00 GMT
Saudi Arabia , Dammam
Kaplan International
The International Institute of Languages is seeking experienced individuals for the role of English Teacher for NITI based at either the Al Hasa Campus or Abqaiq Campus. Reporting to the Senior Teacher, the successful candidates will be responsible for the delivery of Kaplan's English curriculum to national students who need a solid foundation in English which will allow them to enter employment with one of NITI's partner companies such as Saudi Aramco (the state oil company).
View Details

Deadline: Fri 12 Jun 2015 00:00:00 GMT
United Kingdom , Canterbury, Kent, UK
English in Action
We are a UK Education Company delivering 1 to 4 week intensive communicative English courses in schools around the world.
Your focus will be on selling EiA courses to schools in Austria, Germany and other countries. The role involves substantial overseas travel visiting schools to promote EiA through face to face meetings with teachers, presentations to parents and communicative teaching demonstrations to students. Full training will be given.

View Details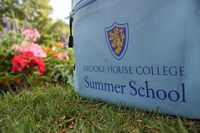 Deadline: Sun 31 May 2015 00:00:00 GMT
United Kingdom , Market Harborough
Brooke House College
Brooke House College is recruiting for a number of EFL Summer School teaching vacancies. Teachers are being sought for 15 hours of teaching per week in the morning. Additional hours may be available in the afternoon. With a competitive hourly rate, free accommodation and good links to London - this is an ideal position for new and experienced EFL teachers.
Full details of the Summer School recruitment policy and detailed job descriptions can be found on our website (link below).

View Details
Deadline: Fri 17 Jul 2015 00:00:00 GMT
United Kingdom , Paignton , Devon The "English Riviera"
Devon school of English
Dynamic, enthusiastic EFL teachers needed for starts on 1 June, 8 June, 29 June,6 July,13 July and 20th July in Paignton, Torbay - the English Riviera. 2,3,4 and 5 week contracts available.
View Details

United Kingdom , Portsmouth, Hants, United Kingdom
LSI Portsmouth
LSI Portsmouth is recruiting qualified, experienced & enthusiastic teachers for the following:
1) F/T Year-Round & Summer General English EFL Teachers of Adults;
2) F/T Year-Round & Summer Business English / ESP Teachers;
3) F/T March to Sept EAP & Pre-sessional Teachers.
LSI Portsmouth is a large established language school in Portsmouth on the South Coast of England. It has a culture of collaboration, professionalism and ongoing personal development.

View Details

* Denotes EU nationals preferred
Job Search Tips
Job search results are shown in date chronological order. In default mode, Total Jobs link shows most recently updated jobs at top. New Jobs includes posts added within the past 24 hours. Advanced Search offers a selection of additional job search criteria. Each page at TEFL.com includes the Find a Job search at top of page, below main menu.