357

Job(s) Found

Deadline: Thu 31 Dec 2015 00:00:00 GMT
China , Guiyang and Zunyi
Interlingua School
We are looking for teachers with a high level of energy, great teamwork and who posses a great deal of creativity. We offer many opportunities for teachers that enjoy teaching. For example, we have the Scouts of Interlingua, which gives teachers the chance of exploring and learning about the great outdoors with their students. We also offer music lovers the chance for them to teach performing arts, such as dancing, theater, or playing a musical instrument. Come join the Interlingua family!
View Details
Deadline: Tue 05 Apr 2016 00:00:00 GMT
China , WSE located cities
Wall Street English(China)
Wall Street English: Who are we?
Change your Future through learning, culture, and community.
Wall Street English is the premier provider of English instruction for individuals and corporate clients around the world. Our proprietary and innovative Wall Street English Method integrates the best of proven teaching approaches to provide the most effective English language education available to adults. Students listen, speak, and practice English under the tutelage of native English speaking teach

View Details


Deadline: Fri 18 Dec 2015 00:00:00 GMT
Spain , Lugo
Emerald English School
Position to start in January 2016 in northern Spain. Reputable, friendly school in modern premises in Lugo. Well-resourced. Interactive whiteboards. Students of all ages and levels. Cambridge and Trinity examination preparation. Competitive salary above national pay scales. Help with accommodation & initial training.Excellent working environment.
View Details
Saudi Arabia , Al Khobar
Prince Mohammad Bin Fahd University
The Preparation Program at Prince Mohammad Bin Fahd University is a bridge program between high school and admission into degree programs. All faculty in the program must understand, believe in, and successfully implement methodology, techniques, and classroom management that are skills-based, student-centered, communicative, and interactive. They must be proficient in the use of technology and be able to use the Blackboard Learning Management System.
Please send your CV.

View Details
China , (1) Shanghai (2) Jinhua, Zhejiang province
EF Academic Partnerships
EFL teaching vacancies at universities in Shanghai and Jinhua, Zhejiang province, with support from Education First.
View Details
China , Hangzhou
EF English First Hangzhou
Summary:
EF Hangzhou, one of the most established and successful Franchises in the English First network is currently accepting applications for the following positions beginning in 2015:
* 3 Full time teachers - EF Hangzhou Young Learner Schools
* 2Full time senior teacher - EF Hangzhou Young Learner School
* 1 DOS(Director of Studies)- EF Hangzhou Young Learner School

View Details
Deadline: Thu 31 Dec 2015 00:00:00 GMT
China , Numerous Cities in China
Meten English
Are you a Native English speaker looking for your next exciting oversea adventure?
METEN ENGLISH offers ESL teaching positions in China with a comprehensive salary package, which includes a competitive salary, an accommodation allowance, a flight allowance, a work visa, a comprehensive medical and accidental insurance and other bonuses.
Come and join us, let's experience the fancinating Chinese culture together.

View Details

Cambodia , Phnom Penh, Siem Reap
ACE Cambodia
Exciting teaching opportunities exist for fully-qualified native level English-speaking teachers at the Australian Centre for Education within IDP Education Cambodia at three campuses in Phnom Penh and one in Siem Reap. Children's Program, Young Learners Program, General English Program, Business English Program and English for Academic Program teachers with at least one year experience are preferred as are teachers with current IELTS examiner status and teachers with experience using Moodle.
View Details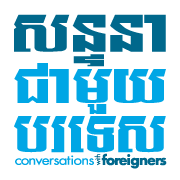 Deadline: Wed 02 Mar 2016 00:00:00 GMT
Cambodia , Phnom Penh
Conversations With Foreigners
Volunteer in Cambodia for 12 weeks with Conversations With Foreigners.
Teach conversational English up to 5 hours per day to adult students from all walks of life using our unique localised curriculum, making English relevant to everyday Cambodian life.
Gain 200 hours classroom experience, with ongoing Teaching Training provided, and with 24/7 living support.
Profits from student fees fund development projects in rural Cambodia with our partners, CRDT.

View Details
Deadline: Sun 08 Feb 2015 00:00:00 GMT
China , Huzhou, Zhejiang, China
EF English Fist Huzhou
EF Huzhou, one of the most established and successful Franchises in the English First network is currently accepting applications for the following positions beginning in 2015:
* 2 Full time teachers - EF Huzhou Young Learner Schools
* 1 Full time senior teacher - EF Huzhou Young Learner School

View Details

* Denotes EU nationals preferred